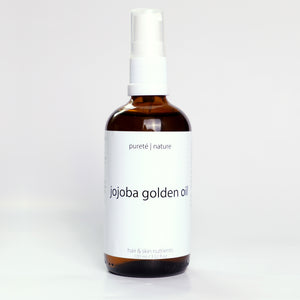 Jojoba Oil 100 ml
Tax included.
Shipping
calculated at checkout.
---
---
Simmondsia chinensis
Jojoba is a mild, nutty-scented oil that absorbs readily and applies easily. It contains many nutrients, vitamins, and minerals that keep our skin supple and smooth.
This organic jojoba oil has a golden sunlit color. Due to its fatty acid profile that closely resembles our skin's own sebum, it is highly regarded as a moisturizer. Jojoba is not actually an oil, it is a liquid plant wax that acts as protective nourishment for your skin. Jojoba resists rancidity and is highly shelf-stable, making it useful in cosmetic formulations and DIY body care applications.
Jojoba is useful for dry, troubled, mature, sensitive and combination skin. It is a soothing oil that balances moisture levels with deeply penetrating, non-greasy nurturance. One bottle of jojoba easily pares down your bathroom counter. Use it for full body moisturizing, facial cleanser and makeup removal, leave-on facial serum, scalp and hair repair, massage oil, cuticle/nail/lip moisture, or as a shaving cream.
Who should use Jojoba Oil?
All skin types benefit from using Jojoba oil, including normal, breakout-prone, mature, dry and sensitive skin. Jojoba oil is the universal skin moisturizer.
How to Use Jojoba Oil
On the Body:
In the evening, apply to the face, neck and decolletage as a nourishing night treatment. Wash your face as usual in the morning.
Jojoba oil can be used head to toe in place of your moisturizer.
For a luxurious, extra-deep moisturizing treatment, massage into damp skin.
Apply to troublesome dry areas such as elbows and knees to smooth and soothe.
Make it your own! Add a few drops of your favorite essential oils to your bottle of Jojoba oil for an extra-pleasing, personalized scent.
On the Hair:
As a nourishing styling product: rub just a drop or two between your palms, and then smooth over dry or flyaway ends.
To restore moisture and manageability to frizzy, dry, or lackluster hair: massage a generous amount of oil into your dry hair and scalp. Relax while the jojoba soaks in (you can leave it overnight), then wash your hair. You will find that your hair is uncommonly soft, bouncy, and full of shine.
While bathing, coat wet hair with jojoba oil and leave in for five minutes before shampooing out. Boost your haircare routine by adding a nickel size amount of jojoba to your favorite conditioner for extra soft and shiny hair.
Care: Our skin care line is 100% natural and contains no chemical preservatives. As such, the products should be treated carefully and not exposed to high heat, direct sunlight, or compromising conditions. 
---