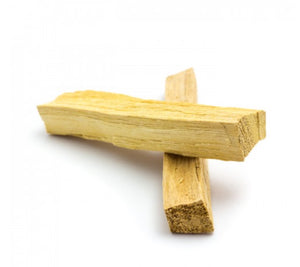 Palo Santo Wood Sticks (Holy Wood)
Tax included.
Shipping
calculated at checkout.
---
---
These thin Palo Santo Wood Sticks are ideal for use with smudging. Palo Santo is known for its properties to aid in clearing bad energy, providing spiritual protection and bringing good luck.
Palo Santo - Blessing and Purification. Palo Santo is literally the Saint Tree. Used for centuries in Peru and Ecuador for spiritual ceremonies. Burn chips as you would incense or smudge sticks; light, allow to burn momentarily, blow out the flame and fan ember. May need to be re-lit. "Wash" persons, places, or property with the smoke. The more the chip is lit, the easier it is to keep the ember going.
Smudging is a ceremony used to clear away negative energies and to attract ones that are more positive. Native Americans have traditionally used many herbs for this purpose, each one having a different effect on the aura and inner being. You may burn a smudge stick directly (or in this case, a wood stick) from the end (extinguish carefully afterwards. When smudging, try to feel connected with a power greater than yourself. You may say prayers while using a feather, or simply the palm of your hand, to brush the smoke over you.

Smudge sticks/wood sticks can be used for cleansing of the aura, for example before meditation or prayer, or they quite often these days used by body workers and therapists. They can also be used for cleansing a house or dwelling and are often used in this way in Feng Shui.

Sustainability
All Fluorescent Ranch products are harvested in traditional manners, in an ecological and respectful way. All our Palo Santo products are guaranteed legally and ethically harvested and fair trade. For more information about this, please see below in our extra information about Palo Santo.

Country of Origin: Northern Peru; re-packaged in Grand Mesa, Colorado
---