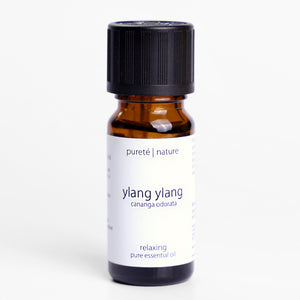 Ylang Ylang Essential Oil
Tax included.
Shipping
calculated at checkout.
---
---
Ylang-ylang is a cooling oil that soothing and calming to the heart and mood. This incredibly luxurious oil has been trusted for centuries for beautifying the skin. Ylang-ylang is renowned as a natural regulator of sebum, and can be applied to equal effect on mature and youthful skin due to its balancing effect on both skin types. Also having an affinity for the hair, it is often used to impart fuller, more luxurious hair and encourage growth. Ylang-ylang is a general tonic to the entire body.
The emotional hallmark of ylang-ylang is a gentle euphoria which can be used during all phases of life to uplift emotions and soothe body and mind. It helps calm over-excited states and can be used to support grounding and stabilization during experiences of fear and upset.
Ylang-ylang beautifully raises the spirit, relaxes mind and body, opens the heart and enhances euphoric sensual moods. It inspires creativity, boosts self esteem and promotes peace, joy and inner trust. Ylang-ylang is an oil that belongs in everyone's perfumery and apothecary, it is a true treasure from the world of flowers.
How to Use Complete Ylang-ylang Essential Oil
Direct Palm Inhalation: Add a drop of ylang-ylang oil to your palms and rub together until you feel a slight warmth building, pause and take a few deep breaths to calm and relax. With your aromatherapy practices, you will find the benefits increasing as you incorporate it into your daily routine. You can keep a bottle of ylang-ylang by your entry hall to inhale as you come home to transform the busy energy of the day into a calm, uplifted state.
Other Ways to Use Complete Ylang-ylang Essential Oil
Blend several drops ylang-ylang essential oil with a massage oil to help reduce the effects of daily stress.
For a luxurious facial massage, blend a few drops into your favorite face cream and gently massage into neck and face, using small circular motion.
Add several drops ylang-ylang to bath water for a calming and sensual aromatic bath experience. 
Complete Ylang-ylang Essential Oil Recipes
Facial Cream For Combination Skin: 3 drops ylang-ylang oil, 3 drops geranium oil, 2 drops rosewood oil mixed into ½ oz of your favorite facial moisturizer
Safety Considerations for Complete Ylang-ylang Essential Oil
Ylang-ylang is classed as non-toxic, non-irritant and non-sensitizing, however excessive use has been reported to lead to headaches and nausea. Do not take ylang-ylang essential oil internally.
Aromatic Profile and Blending of Complete Ylang-ylang Essential Oil
Perfumery Note: Middle to base
Odor: Intensely sweet, tenacious, slightly fruity, tropical floral aroma, lighter than ylang-ylang superior
Strength of Initial Aroma: Medium to strong
Blends Well With: citrus oils such as bergamot oil, grapefruit oil, sweet orange oil, and petitgrain or neroli-petitgrain oil; also lavender oil, sandalwood oil, and vetiver oil 
---