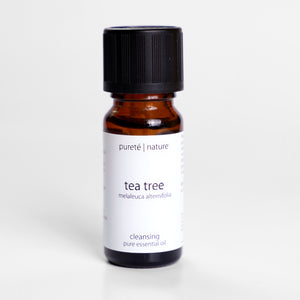 Tea Tree Essential Oil
Tax included.
Shipping
calculated at checkout.
---
---
Melaleuca Alternifolia
Tea tree oil is one of the most well-known essential oils for purifying and cleansing. Tea tree effectively supports wellness and is an excellent oil to employ during the challenging winter season. Tea tree oil is an important addition to your home medicine cabinet and first aid kit due to its fast and effective healing capabilities.
Tea Tree Oil has shown a high degree of efficacy in clearing and promote healthy nails. It can also be applied topically in ointments, salves and compresses to encourage skin health and is an important oil for cleansing and restoring healthy skin tissue when properly diluted. 
How to Use Tea Tree Essential Oil
There are a wide variety of tea tree oil uses.
Facial Steam: Add 1-5 drops in a steaming bowl of hot water and cover both head and bowl with a towel. Excellent for bringing comfort to the sinuses and respiratory system and for enhancing skin health.
In the Diffuser: Diffuse tea tree alone or in combination with eucalyptus and lavender as needed throughout the day, especially when colds and flus are being passed around.
As a Compress: To promote healthy skin tissue, put 10 drops of tea tree oil in 4 oz of water. Then, soak a cloth in the water and wrap on affected area.
Scalp Health: Tea tree essential oil has great benefits as a scalp cleanser. Pure tea tree oil can be irritating to the skin when applied directly, so add a few drops to your favorite shampoo.
Fresh Mouth: Diluted in water, pure and natural tea tree oil can be used as a mouthwash. Add 2 drops of tea tree essential oil into 2 oz of water and gargle.
Clean House: There are many uses for tea tree enhancing home cleanliness. Tea tree oil can be added to your household cleansers to amplify their purifying action or used directly for a more powerful effect.
Safety Considerations for Tea Tree Essential Oil
Do not take tea tree oil internally. Do not apply directly to the eyes or mucous membranes. Potential for Skin Irritation: Medium (some people have no reaction to tea tree directly on the skin, while others have extreme reactions–please exercise caution). 
---