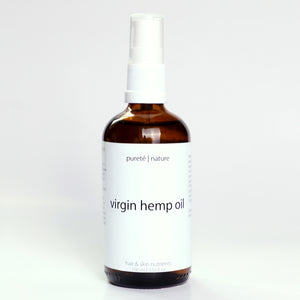 Virgin Hemp Oil 100 ml
Tax included.
Shipping
calculated at checkout.
---
---
Hemp seed oil is brilliant for the skin; the omega 3 content has an anti-inflammatory effect and seals in moisture. We recommend applying it just before bedtime to get smoother softer skin or add a teaspoon to a hot bath together with other essential oils.
Hemp seed oil also has external benefits for the skin and hair which can improve dry, flaky skin. Hemp oil penetrated the inner layers of the skin and promotes healthy cell growth, which encourages smooth skin.
Hemp oil can benefit certain skin conditions such as atopic dermatitis, eczema and other rashes. Eczema is a condition where the skin becomes inflamed and dry, and hemp seed oil has been known to improve these skin conditions.
Applying hemp seed oil can relieve dryness and itchiness, reducing the needs for medications. Hemp seed oil's fatty acids are believed to affect immune responses in the body which helps promote healing.
Hemp seed oil is also low on the comedogenic scale, meaning it has a very low chance of blocking pores and causing or irritating acne. Hemp seed oil is similar to our skin's own natural lipids. 
---