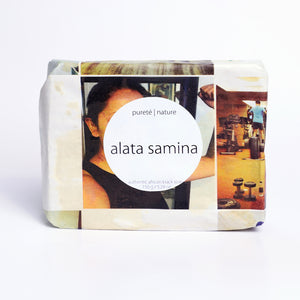 Alata Samina (The Original African Black Soap) 150 g
Tax included.
Shipping
calculated at checkout.
---
---
Pureté Natures authentic African black soap made with natural ingredients, it can be used on all skin types. Although referred to as Black soap, authentic African Black Soap is brownish in colour. Free from fragrances, chemicals, and colouring agents, it is used in West Africa to relieve skin irritations.
Renowned for its health benefits, our fairly traded black soap is the healthiest soaps for the skin due to the purity and simplicity of the ingredients which are loaded with essential vitamins, minerals, and antioxidants. 
Removal of cosmetics: our authentic black soap is a wonderful alternative to expensive products which rely on chemical additives and foaming agents to remove your make-up. Our soap will even work on waterproof cosmetics.
Cleansing: our authentic black soap foams into a rich lather with fine bubbles which penetrate the skin to remove any dirt and oil that if left will clog your pores. The lather cleanses while enriching the skin with essential vitamins, minerals and antioxidants.
Gentle Exfoliation: our authentic black soap delivers a deep cleansing experience that exfoliates dead skin cells to reveal radiant, clean, fresh and healthy skin. Our product provides a deep cleansing exfoliate but it is gentle enough to use on your face while restoring moisture balance and shine. Leave the lather on your face or body for just a couple of minutes and then rinse with plenty of water. Repeat a couple of times a week and watch your skin take on a radiant youthful glow.
Ingredients: Cocoa ash (doh), Unrefined Palm kernel, Unrefined Coconut oil, Unrefined Shea Butter, Unrefined Cocoa Butter, Neem Oil, Vegetable Glycerin. 
---